Several years ago, women's fashion houses began to release a certain type of leather jacket.  It had an off-center zipper, two to five zippered pockets, a wide collar with double lapels and snap epaulets on the shoulders.
These were called moto jackets, and they imitated a traditional men's motorcycle fashion.
This year we still are seeing these jackets.  Here are a few of the many 2017 offerings.
These jackets are versatile.  I've had one for several seasons and plan to keep it for the long run.  It's good with dresses and skirts and jeans, and its vibe is a little tough looking, which moderates the girly-girlishness of frilly or softly constructed clothes.
Background

The moto jacket has a long American history.  Two sons of immigrants, Irving and Jack Schott, founded their company in New York in 1913; the first products were raincoats that were sold door to door.  Then the Schotts branched out a bit.
In 1928 they released a men's motorcycle jacket named the Perfecto, after Irving Schott's favorite cigar brand.  Various Perfecto versions — all looking largely the same — have been released ever since.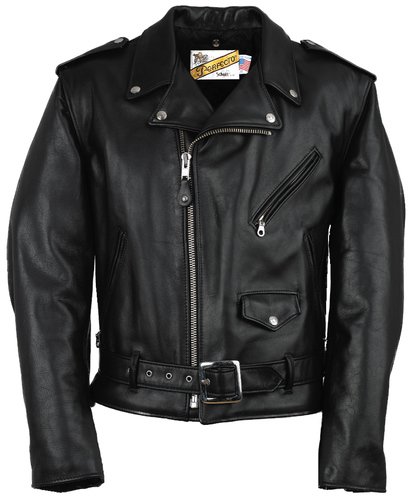 The Perfecto really took off 25 years later when it was featured in "The Wild One," a movie about a battle between two motorcycle gangs in a small town.  The star of the film was Marlon Brando, who wore a Schott Perfecto with his character's name, Johnny, embroidered under the left shoulder.
America was sort of a squaresville in the early 1950s, and Brando's motorcycle jacket was seen as an emblem of rebellion and danger.   As the century proceeded, rebellion and danger became more and more attractive.
Later adopters of the Perfecto were James Dean, the Ramones, the Sex Pistols and Bruce Springsteen.
In the late 1980s, edgy designer Jean Paul Gaultier (known then for Madonna's cone bra concert costumes) released Perfecto-esque designs for women and men, as seen below.
Since the turn of the millennium, Schott Perfectos have been spotted on more mainstream celebrities including Daniel Radcliffe, Jonah Hill, Kanye West, Jay Z and Lady Gaga.
Blake Lively was featured wearing a Perfecto and underwear on an Esquire cover in 2010.
I'm not sure the cover was as much about fashion as newsstand sales, but I suppose a leather Perfecto would appeal more to the Esquire demo than, say, a nubby wool number from Chanel. (In fact, Esquire covers typically feature individuals, with the men in full attire and the women in deshabille.  What a surprise.)
More Schott
Schott Bros., Inc. has been influential for more than Perfectos.  In World War II it designed and manufactured bomber jackets for flight crews and built pea coats for sailors.  The company still sells a range of jackets and sweaters in men's and women's sizes, and at pretty good prices.  You can find them online or at stores in New York, Chicago and Los Angeles.
This summer, rag & bone, the Brit-inspired, US-based urban fashion house, has partnered with Schott to sell a joint limited edition Perfecto jacket.  One r&b founder is a Perfecto collector who has revealed that he has a dozen vintage models.